Adult Party Games
Shop Here: Party Entertainment for Grown Ups
Check out a totally unique collection of adult party games you can print and play, published and sold by Print Games Now along with other outrageous entertainment from the top adult party vendors. These games promise tons of fun for over-21 birthday bashes plus there's special entertainment for office parties, Valentine parties, and even couples-only games for two.
Buy one, two,or three games you like, or a go for a whole collection.
Here's a sample of the unique grown up games we've gathered for you ... click a link or picture to view more info on each collection or to select your favorite adult party games.
Adult Birthday Party Games
Here's a group collection of printable birthday party games for adults. You can choose one, or a few, or save big on a set of major milestone event games for 30th, 40th, 50th, 60th birthdays along with specialty printables for every year from 1950s through the 1980s.
Happy Birthday 30-somethings!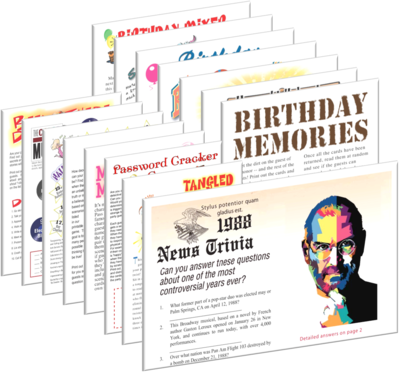 1988 Birthday pack + FREE Party Games
Adult Valentine Party Fun
Grown up entertainment for groups and for couples
Christmas Holiday Party Games for Work or Club
Don't burn out the office printer prepping for your party!
Adult Beverage and Snack Games
Choose your favorite grown up beverage game or play snack-related challenges with these hilarious house party or pub crawl games.


Beers of the World Trivia Placemat Challenge
Bachelorette Party Fun
Find the BESTBachelorette Party Games, gifts, party favors and gags with nice and slightly naughty themes in our special bachelorette party shop.
Warning: Some items on this page may make you blush ...
Theme Party Games
These unique game collections for your theme party include print on demand sheets from Print Games Now that offer great value and unlimited printouts. Buy once, print unlimited copies forever. The printable PDF files are yours to use whenever you want.
In this collection from various vendors we've curated popular games for favorite party themes including sports events, movie night, luau, 50s, 60s, pirates, and more.
Super Bowl Party Games
The perfect set of games for football fans plus funs for guests who may even not really enjoy the Super Bowl.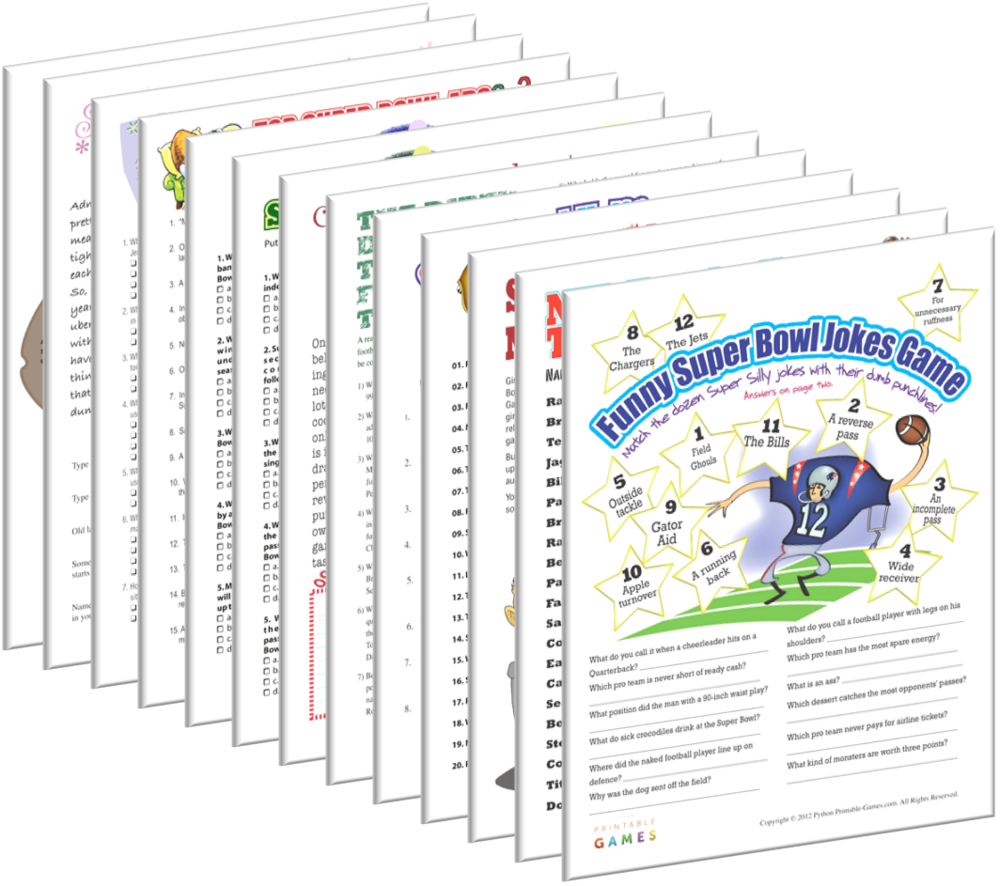 Printable Super Bowl Party Games Set
Red Carpet Oscar Party Games
The ideal way to add fun to your movie buff and Hollywood stargazers bash.
And Wait, There's Even More for your Party Fun
Okay, Let's Play Adult Games
Ready to play adult entertainment - just add friends and laughter!
Here are some hilarious games to play with your grown up friends at a house party, up at the cabin, or on the beach. Drinking adult beverages or thinking outside the box may be involved.

Chardonnay Go Game