Birthday Printables
Enjoy our collection of thrifty printable birthday goodies to make any celebration fun and unique.
intro banner
Party Pennant Templates
Decorate the party space with bunting or pennant swags made with our printable templates. Use these patterns to create your own paper, felt, or fabric garlands for any party.
Stickers
Adorable printable stickers, labels, and pretend postage stamp sheets with fun birthday themes.
coming soon
Party Coloring Activities
Party Signs / Placemats
Special guest and themed printable place mats can also be used as signs.
Greeting Cards
Print your own festive and cheery birthday greeting card templates, then add colors, glitter and other embellishments to make them totally one of a kind.
Sweet 16 Cards
Sweet 16 pretty pink greetings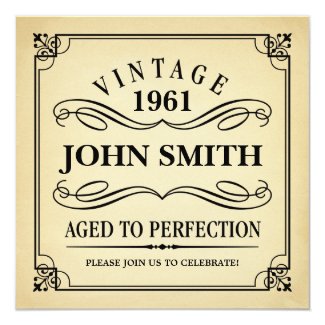 Vintage Aged to Perfection Funny Birthday Invite
by
giftcy
View Funny Invitations online at
zazzle
Gift Tags or Table Flags
Make quick jumbo gift tags with food flag/table marker craft sheet printables.
Favor Boxes & Goodie Bags
Print, cut and fold these unique small paper craft boxes to present a special little item, party favor, or personalized gift coupon. Or, learn how to print your own party favor bags using paper lunch sacks.
Birthday IOU Coupons
No time or money to shop for a fancy store bought gift? No problem! You can give anything you can promise, from a hug to a week in the country with these clever quick print IOUs and gift coupons.
Party Posters