Happy Holidays Gingerbread Banner
Happy Holidays word art graphic with gingerbread cookies and red banner.
Click image to enlarge. This graphic in a similar design s available printed on tee shirts - see info at right.

You might like this professionally printed Christmas shirt, Baby's 1st Christmas, designed using a similar gingerbread graphic - it's available at my Zazzle store, Image Factory.
You can personalize it, change color or style and many other options.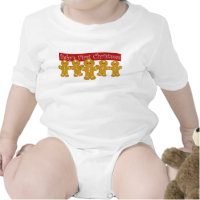 My First Christmas Toddler Shirt by imagefactory at
zazzle.com